2 August: Best game ses­sion sin­ce August 2015
First ses­sion of Magi­cal Fury by Ewen Clu­ney, run by Kamil, play­ed: Adrian and me. By the real table.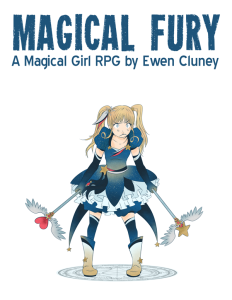 Best — becau­se eve­ry­thing wor­ked. Play­ing in the phy­si­cal spa­ce is dif­fe­rent: we found con­nec­tion betwe­en each other, buil­ding on others ide­as was easier. Trust was in the air.
And so we got magi­cal girls strug­gling with the­ir real gir­lish pro­blems, like not being under­sto­od by others or fear of public spe­aking, and not so real — like being a magi­cal girl. We had fun­ny parts: kawai bun­ny being the­ir sen­sei, Ichi­go making him a supri­se pho­to with a flash or Hika­ru sen­ding sms with bunny‐emojis. We had hear­twar­ming parts like asking busy father to make a sur­pri­se call to mom, becau­se she was wor­ried. We had sca­ry parts: crum­bling city becau­se of con­tact with super­na­tu­ral.
I want more!
#RPGa­Day