2 August: Best game session since August 2015
First session of Magical Fury by Ewen Cluney, run by Kamil, played: Adrian and me. By the real table.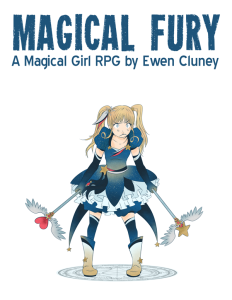 Best – because everything worked. Playing in the physical space is different: we found connection between each other, building on others ideas was easier. Trust was in the air.
And so we got magical girls struggling with their real girlish problems, like not being understood by others or fear of public speaking, and not so real – like being a magical girl. We had funny parts: kawai bunny being their sensei, Ichigo making him a suprise photo with a flash or Hikaru sending sms with bunny-emojis. We had heartwarming parts like asking busy father to make a surprise call to mom, because she was worried. We had scary parts: crumbling city because of contact with supernatural.
I want more!
#RPGaDay